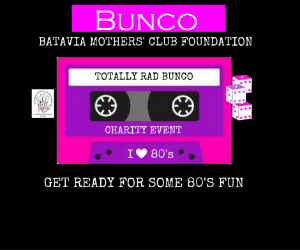 Totally Rad Bunco!!
Saturday, January 12, 2019
Doors Open 6:30pm
Dice Roll 7:15pm

Batavia Moose Lodge
(1535 S. Batavia Ave., Batavia, IL 60510)
Join us for a fun night of rolling dice and flashing back to the '80s for a great cause! There will also be a raffle, silent auction, heads or tails game, and more. All participants must be at least 21 years of age. Tickets are $30 per person or $100 for a table of four if ordered in advance; tickets are $35 per person at the door. A selection of appetizers, snacks, and desserts will be offered. A cash bar will also be available.
All money raised from this event and other events through the Batavia Mothers' Club Foundation go back to the community through the schools or local Fox Valley organizations that focus on helping children and families. For more information or to support the event, please visit us online or contact us via email at bunco@bataviamothersclub.org or by phone at 630-282-3153.