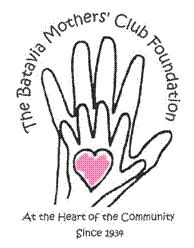 34th Annual Autumn Craft and Vendor Show
Saturday, October 19, 2019 from 9 am – 3 pm
Batavia High School
Located at 1201 Main Street Batavia, IL
BMCF's Annual Autumn Craft and Vendor Show will be located in the gymnasium and cafeteria area at Batavia High School. This show features handcrafted items from a variety of area artisans, as well as commercial vendors representing various direct sales companies. The event spotlights a juried selection of arts & crafts designed and created by the artist. *Criteria for artisan entry are originality, maturity of work, and quality of construction.
BMCF seeks 100 local artists, crafters, and vendors to exhibit in the spacious gymnasium at Batavia High School. The show will also include the ever-popular bake sale, a charity raffle, a 50/50 raffle, and lunch services, including delivery of food to booths for crafters. Advertising is extensive throughout the Fox Valley: press releases, outdoor signage, posters, internet ads, school flyers, etc. This is a well attended event with at least 1000 patrons. There is a $5 admission fee.
All proceeds from this event go towards positively impacting the lives of children, families, and individuals in the Fox Valley area.
APPLICATION INSTRUCTIONS
APPLICATION FORM: Please fill in all requested information on the application form. All communication, including photo submissions, must come from the email listed in application and reference the Name on application.
SUBMISSION OF PHOTOS: The jury process is based solely on the photos you submit—make sure they are clear and detailed. Submit one quality color photo for each category of craft you will display and sell in your booth. Also send a current photo of your booth.

Photos will not be returned, and are required each year, even if you have applied to the show in the past.

FEES: All fees must accompany your application. Online applications must use online credit card payment.

PDF applications may be printed, filled out, and sent in with a personal check. In that case, booth fees are cashed upon exhibitor's acceptance. There is a $20.00 charge for returned checks. Personal Checks will be accepted until September 20. After this date, payment must be in the form of Cashier's Check, Money Order, Cash or Online Application with Credit Card submission.

Email or SASE: Exhibitors must include an email (online or paper submissions) or a self-addressed, stamped envelope (paper submissions only) with their application for status notification.
NOTIFICATION: Juries will be held in early June, early August, and mid September. You will receive notification of acceptance by email or phone following the jury in which your application is reviewed. If accepted, your show information packet will arrive via email along with your acceptance email. If no email is provided, show information will be sent by mail before October 1.
RULES FOR PARTICIPATION
ORIGINALITY: All work displayed by crafters must be designed and created by the crafter and consistent with work depicted in the submitted photos. Absolutely no imported, manufactured, kit produced or mass produced items will be allowed. Any misrepresentation will be removed, without recourse.
VENDORS: BMCF is allowing commercial vendors at this year's show. Vendor booths will be interspersed with exhibitors of hand-crafted items. Vendor applications will be juried and selected based on quality of items sold, marketability, and uniqueness of products.
BOOTH ASSIGNMENTS: Booth space in the gym will be awarded on a first-come, first-served basis. Applications received before July 1st Early Bird Deadline will have a greater chance of securing a booth in the gym.
BOOTH OCCUPANCY: You are responsible for supplying ALL display equipment needed for your items, including tables and chairs.

Exhibitors must set up between 6:15-8:45 a.m. on the day of the event. Any participant not checked in by 8:45 a.m. will forfeit their space without refund. You must provide your own workers, and remain open for the duration of the show. No representatives or sales agents are allowed in the crafter area of the show. Booth removal must not start before 3:00 p.m. and must be completed by 4:00 p.m

ELECTRICITY: There are limited booths with electricity. These booths are located around the perimeter of the room. They are available for an additional $15 and are on a first paid, first served basis. If the spaces are filled, your electrical payment will be refunded.
PARKING: Offsite parking information will be provided with acceptance letter.
It is BMCF's sole obligation to furnish assigned exhibit space, general lighting, cleaning and guard service. Services of any other nature shall be requested by the exhibitor in writing at least 30 days prior to the festival and will be granted at the sole discretion of BMCF.
CANCELLATION: NO FEES WILL BE REFUNDED AFTER SEPTEMBER 20, 2019. All cancellations must be received in writing.
BMCF will not be liable for refunds or any other liabilities whatsoever for failure to fulfill the terms and conditions due to the unusable condition of the area in which the show is to be produced caused by, but not limited to, fire or other calamity, natural disaster, public enemy, strikes, statutes, ordinances of any legal authority or any cause beyond BMCF's control.
Insurance should be obtained by and at exhibitor's own cost and expense. BMCF assumes no risk.
Exhibitors shall be liable for delivery, handling, erection and removal of their displays and materials. BMCF will prohibit the installation and operation of any exhibits not meeting its approval. All pertinent fire codes, laws, ordinances and regulations pertaining to health, fire prevention and public safety shall be strictly obeyed. No damage shall be done to the booth area or foliage around the location by the exhibitor.
No commission is charged. The exhibitor is solely responsible for collection and remittance of sales tax (7.5%) to the State of Illinois.
No waivers, modifications or amendments shall be valid unless approved in writing by BMCF's Board of Directors. BMCF retains the right to use names, business names, photographs, and artwork submitted by the exhibitor for use in advertising and promotion of the show.
Exhibitor, by submitting the application and upon acceptance to show, will hereby release and forever discharge BMCF, and all sponsoring organizations and their directors, officers, employees, agents and volunteers from any responsibility, personal liability, claims, loss or damage arising out of or in conjunction with his/her participation in Autumn Craft & Vendor Show. BMCF will not be responsible for any injury sustained by the exhibitor and guests while within space designated for exhibits. Further, exhibitor understands that he/she stores his/her artwork at his/her own risk.
DEADLINE FOR APPLICATIONS: Applications may be submitted until October 5, 2019 11:59pm, or until all booths sell out.